EasyPTRE
Info: EasyPTRE - IG script (compatible with AGR)
Author: GeGe
Website: https://ptre.chez.gg
Support: https://discord.gg/PQkSakJSPz (to english channel)
Screenshot: check below
Browser: all
Compability: all
Languages: English
Discord Handle: GeGe#2929
Presentation
PTRE is already a tolerated tool. But as i am adding a ingame script, after RiV advices, i rather create a new post to propose this tool. For details, you may check PTRE Origin post or PTRE website.
EasyPTRE is a simple script providing PTRE basic features and working with AGR extention. You only need to install it and add your PTRE Team Key, and off you go!
EasyPTRE features
Only few PTRE features are available in EasyPTRE which are:
Spy report push
Ingame activities push
Here is the full compatibility table:

EasyPTRE Screenshots
Settings
Add your PTRE Team Key. It should look like: `TM-XXXX-XXXX-XXXX-XXXX`.
You may use AGR target list or PTRE's one.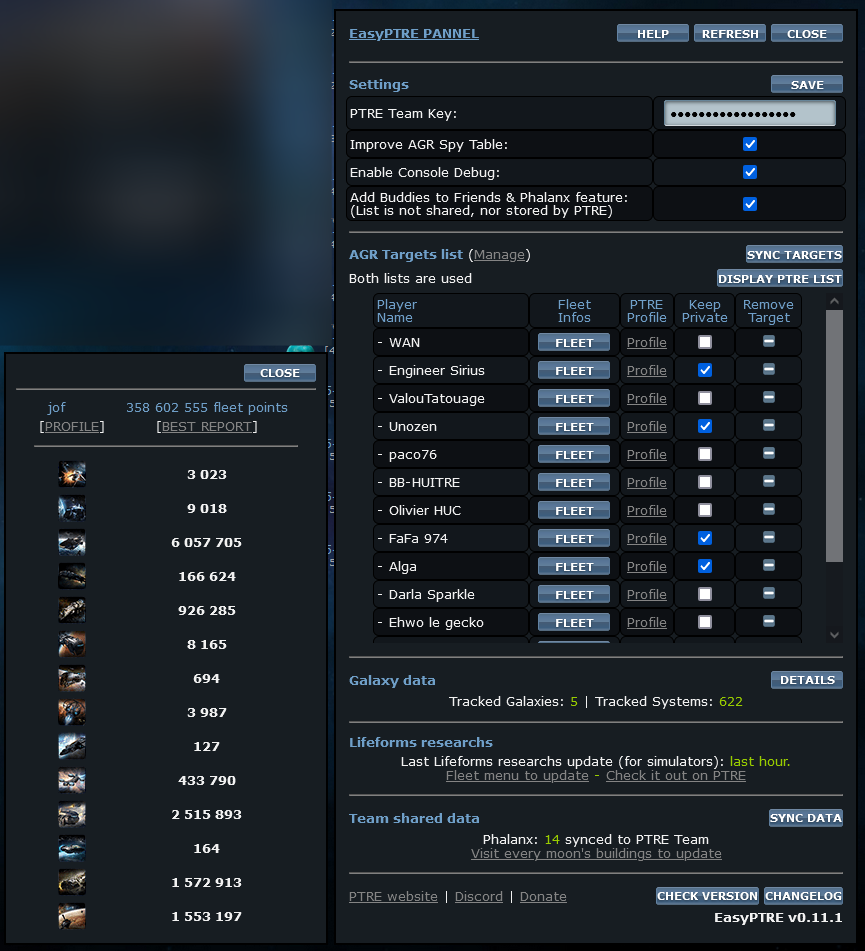 PTRE link for AGR pinned player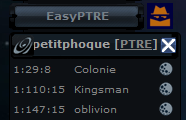 Push spy reports
In the message page, click on the spy report you want to send, it will display the following button. Press it and it will send the spy report to your Team database and share it over Discord.

Add target to PTRE list
If you dont want to use AGR target list to check players activities, you may use PTRE list. To add target to PTRE list, simply click on the "+" button in galaxy view.

Push ingame activities
Then, each time you display a system, targets activities will be sent to PTRE Team database.

Discord push
All spy reports are pushed to Discord.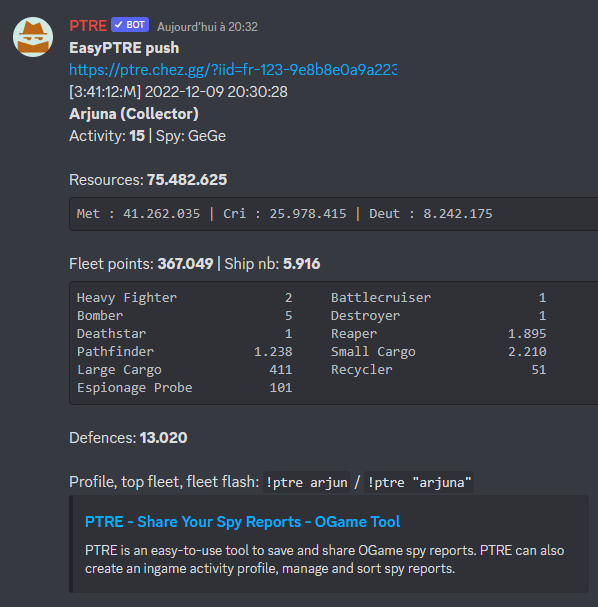 PTRE screenshots
Here are some screenshots from PTRE itself. You may find more here.